Meet Your Protector Guide & Guardian Angel - Guided Meditation MP3 Download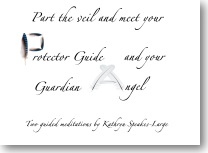 Part the veil to your angelic entourage…
Each one of us has a crowd of angelic beings in attendance with us in every moment of our existence. We each have many angels, guides, teachers and ascended masters who work with us throughout our lifetime. Some travel with us always, while others come and go.
Consciously working with our entourage of angelic beings opens the way to understand their guidance to receipt of our highest good in all things. By following their guidance our lives flow more gently in ease and grace…
Welcome this opportunity to meet both your Guardian Angel and your Protector Guide.
Track One: Meet Your Protector Guide
Meet your Protector Guide, a native of the country in which you were born.
Music by Stacey Parnum, Mountains Calling, StaceyParnum.com
Track Two: Meet Your Guardian Angel
Meet your Guardian Angel who has been with you throughout this lifetime.
Music by Stacey Parnum, A Flute Awakening, StaceyParnum.com
Need a CD? Contact Kate!

MP3 Download: $11.11
Meet Your Protector Guide & Guardian Angel