Heal Mother Earth with Love - Guided Meditation MP3 Download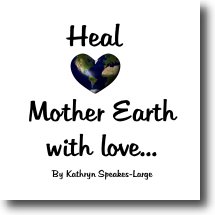 Love is the most Powerful Magnetic Force in the Universe!
~~Florence Scovel Shinn
Come together to share the healing energies of love with like minded human spirits and Mother Earth.
The Heal Mother Earth with Love guided meditation is based on the Healing Circle of Love as given by Princess Diana and Mother Teresa meditation.
The Heal Mother Earth with love meditation taps into the All Powerful Love Source of the human spirit and shares this love with Mother Earth elevating all to the healing love vibration.
As Within, It Is Without.
Track One: Heal Mother Earth with Love - Together with those of the spirit realm you will pull forth the love of the creator from the depths of your heart to expand out to envelope Mother Earth raising the vibration of all to that of healing love.

Track Two: The Power of Gratitude guides you to the reality of the power of gratitude. You will embrace that which you are grateful and shift to a state of bliss and love. You will elevate your vibration to that of your Field of Potentiality becoming a magnet for all that is yours by divine right.
Need a CD? Contact Kate!