Healing Trilogy: Love, Worthiness, Forgiveness - Guided Meditation MP3 Download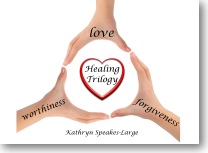 You have dominion over the creation of your life.
What are you creating?
Breathe effortlessly into the powerful Spiritual Being of Infinite Possibility that you are through the Healing Trilogy: Love, Worthiness and Forgiveness...
It is possible to communicate with these spirit emanations or orbs. Communicating with Orbs provides a method to connect and learn why and who they are.
Track One: Love Meditation
Invigorate and energize your mind, body and spirit as you shift fully into the higher vibration of love source!

Track Two: Worthiness Meditation
Breathe easily into a state of worthiness in love and light to draw to you all that you desire.
Track Three: Forgive the Unforgiven Meditation
Forgive all that has been unforgiven and heal all areas of your life.
Need a CD? Contact Kate!

MP3 Download: $11.11
Healing Trilogy