Healing Circle of Love as given by Princess Diana & Mother Teresa - Guided Meditation MP3 Download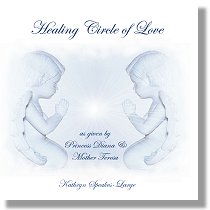 In the spirit world, there is only love. There is no fear, angst, anger, disappointment, stress, worry or unforgiveness – only love. The fear based emotions and feelings are of the human existence. Fear is an illusion created by man.
The reality is… there is only love.
The guided journey Healing Circle of Love holds tremendous power to shift our entire existence from that of fear to that of love. In love there is profound power.
At times the human existence includes situations that leave us feeling lost, hurt and powerless to help those we love. In 2006 Kate was experiencing such a situation. It was then that Princess Diana and Mother Teresa came to her and blessed her with this tool of healing love that shifts one from drowning fear to heartfelt love and peace - as if resting safely in the palm of God.
When we shift within, the outside world has not choice but to shift as well. When we shift to a source of love a domino effect of highest good begins to shift all around us. This guided journey initiates that shift!

Track One: Healing Circle of Love Introduction shares the blessed tool given to us by Princess Diana and Mother Teresa to help us to shift from a source of fear to that of love where relationships and life situations are concerned. When we shift within, the world around us has no choice but to shift as well.

Track Two: Healing Circle of Love lights the pathway to our highest good through forgiveness and the profound power of love. You will move with ease and grace from conscious and subconscious fear of the physical world to the consciousness of love source, thereby experiencing profound peace from deep within.
Need a CD? Contact Kate!

MP3 Download $11.11
Healing Circle of Love as given by
Princess Diana and Mother Teresa
The following is Kate's story of how she received the Healing Circle of Love as given by Princess Diana and Mother Teresa:

In 2006 my teenage daughter went into a tailspin and felt living with me was not what she wanted to do any longer. She had been living with me since her dad and I divorced when she was two. I thought we were best buddies and would pass with grace through the teenage years. This was not to be the case.

That year she was an AP Honor student and had enough credits to graduate early in January of 2007. Even though she was giving me a hug every night before bed and we weren't fighting, she ran away from home.

For both of us, the life we knew ceased to exist. For me operating my body in some semblance of normalcy became a challenge. I wanted to help my daughter! I wanted to bring her home and fix whatever needed to be fixed. I wanted to help her heal the raw pain she seemed to be drowning in, but she refused.

When my broken heart and I would go to bed, I would pray for Jess's safety and for help with this startling and unexpected life event. One night I received a very precious, profound gift in a surprising way.

Princes Diana came to me, hugged me, and told me that a "mother's love is impenetrable." She assured me that those of the angelic realm were with my daughter and that she would be working with her personally.

Immediately after she told me this, Mother Teresa joined us. Princess Diana took one of my hands and Mother Teresa took the other and we formed a circle. Diana instructed me to put my daughter in the middle, release all the fear, anger, frustration and pain I felt where Jess was concerned and send her all the love of my heart. As I envisioned doing this Princess Diana and Mother Teresa did the same.

Within moments Jess began to glow with the light of the love we were sending to her. Then Princess Diana, Mother Teresa and I began to glow brightly as well till we were all a glowing ball of love. I then noticed a beam of light coming down from the crystalline matrix above us to connect us all as one.

Within moments I shifted from deep within from pain and fear to love and I suddenly felt whole again and that Jess was safe. I experienced a deep knowing that Jess would be fine.

I slept better that night than I had since Jess left. When I woke, I felt in balance and at peace from deep within. I shifted to a source of love where my daughter was concerned and as a ripple affect my reality began to shift as well.
The lines of communication opened between my daughter and me and we began to rebuild our relationship. Thankfully, Jess got the help she needed to pull herself from the dungeon of depression.

I did not expect Princess Diana to come to me and help me heal my broken heart, but she did. I clearly remember meeting with her and Mother Teresa as if it just happened only moments ago.

This gift of healing through love from Princess Diana and Mother Teresa helped me so much I've shared it with countless others as a guided meditation CD: Healing Circle of Love as given by Princess Diana and Mother Teresa. This method of shifting fear to love works for everything – relationships and life events, as well as opening your heart to loving and nurturing yourself!

The visit from Princess Diana was a blessed gift from one mother to another and I am forever grateful!
I've used this beautiful, powerful method of "sending Love" to people life situations and to myself - it works for EVERY-THING!
Note: Sending love to someone or something is not the same as surrounding someone or something with love. When we send someone or a life situation love, we must be in the love energy - we cannot send love from fear energy. By shifting into the love vibration to send love, we take our power back!
In love and light,