Messages from Big Jim
Big Jim's Rainbow
Here in Colorado, rainbows are prevalent. I love rainbows. They have always made me feel loved like a huge hug from an angel. In a reading my mom received, Big Jim told us he can make rainbows with exhaust from his heavenly motorcycle.
As I mentioned, I've been feeling human and sad about my grandfather.
Then it rained.
Then the sun came out.
Then I felt better: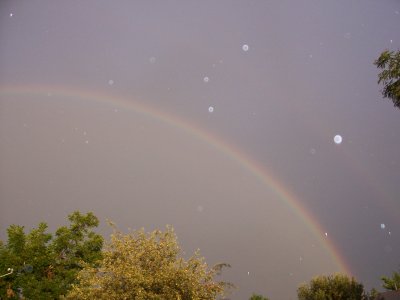 Click the image to view a larger image.
As always, I was very excited to experience the rainbow and capture it in my camera. With my eye, I could only see the one rainbow, but when I viewed the slide show on the computer, clearly there is a second faint rainbow - and there are ORBS! I felt the hug not only from the angels, but from Big Jim too. I felt immense gratitude deep within. Then I heard a smiling, loving, "You're welcome."