Communicate with Your Angels
and receive guidance to create your
heaven on earth as your reality!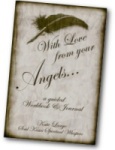 Communicating with your angels is EASY!
You have a group of angels available, ready and excited to help you in every moment of your existence.
Are you working with them??
Whether you've been trying for years, or this is your first time, the guidance in the With Love from your Angels guided Workbook and Journal will help you! Now there is a tool that provides guidance to work with your angels in an experiential way in your own home, at your convenience!
The #1 complaint of angels is:
"You don't ask for enough help!"
In this guided workbook and journal you will open your heart to connect and receive guidance, messages and healing from your angels!
Your angels will help you with:


life events


situations


relationships


finances


love - children, family & friends


health


your work


all areas of your life! No topic is too big or to small!
The With Love from your Angels Workbook and Journal includes:

Insight to communicating with your angels easily


The Power of Two Energy


Suggestions of support


A very special grounding technique


Step by step guidance to help you open your heart


Step by step guidance to working with your angels to heal life situations & relationships

With Love from Your Angels Companion CD
Love Meditation
Meet Your Guardian Angel Meditation
Healing Circle of Love as given by Princess Diana and Mother Teresa Meditation
PLUS: Kate's favorite Grounding Technique