Waiting in the Other Room Book and E-Book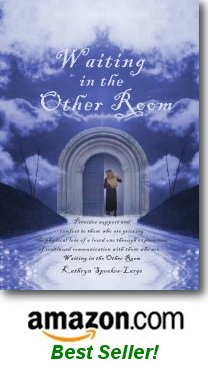 provides support and comfort to
those who are grieving the physical loss of
a loved one by sharing experiences of continued
communication with those who are...
Waiting in the Other Room
Are you grieving the physical loss of a loved one, but your heart tells you they are still with you? Do you fear death?
Death of someone we love is an experience each one of us will face in our lifetime. The pain of the raw emotions of grief resulting from the physical body of a loved one dying is excruciating. Our lives are changed forever and our grief process is our own - as individual as we are.
As a child growing up Southern Baptist I was scared silly of dying. Through my spiritual work of the past thirty years I've connected with my angelic entourage and learned that there is nothing to fear in dying for myself or those that I love.
On October 31, 2005 my dad, Big Jim, died during open heart surgery. Before he went into the light, he and I received a miraculous gift of connection. We visited about his decision for his spirit to leave his physical body through death. After fully transitioning into the light he has come back to help me with my work and to continue being my dad with fatherly advice when asked (and even when he isn't asked...

).
Also included in the book...
When those we love succumb to Dementia or Alzheimer's we feel as trapped and helpless as they do in the inability to communicate. My grandfather experienced Dementia before he died in 2007. I've included in the book the method I used to communicate with his higher self as well as examples of our experiences to help others know even though verbal communication may no longer be an option, communication in another form is possible!
The physical world teaches us that everything has a beginning and everything has an end. Death of the physical body is not the end. It is a continuation of life in spirit form. A return to the spirit realm from whence we came. Waiting in the Other Room shares all this and more with humor and love.

Waiting in the Other Room Book

Personally signed by Kate: $16.95

You will be notified by email
when the book ships.

Order directly
from Amazon

E-Book: $12.95

The E-Book is in PDF format
This is a photo of my grandma Hailey's tombstone. Notice the inscription under the names - this is my inspiration for the name of the book:




$1.00 of every book sold goes to Ronald McDonald House Charities in Joplin, Missouri!!!

Recommendation from Trudy Griswold of Angelspeake:

"At some point in our lives we all experience a fear of death. We ask the question, what really happens to us when we die? Do we go to heaven? To hell? Do we remain buried or roam in unrest for eternity? Within these pages Kate and her father, Big Jim, show us through continued experiences that the human spirit lives after death of the body, because love never dies. The message within is of hope fulfilled and loved ones reunited after the last breath is spent. I highly recommend reading this gift of love to aid in dissipating fear of death and to open the door to continued communication with loved ones who are deceased."

Donna's experience:

"Kate's book Waiting in the Other Room is extremely helpful to any one who has lost a loved one and wondered whether they could connect with them on the other side of the veil. I had been told that daily meditation could connect you to the spirit world, so I prayed and meditated daily in an attempt to connect with the deceased husband whom I had been married to for 34 years when he died of cancer. After some time had passed, I started hearing a voice in my head that talked to me just like he used to, but I wondered if I was just imagining it or my mind was playing tricks on me. After reading Kate's book and her experiences with her dad, I realized that I am really hearing my deceased husband. He even teases me about my lousy driving skills – like he did when he was alive. I highly recommend Kate's book. It is well worth reading and buying."

Click here to read more about what others are saying!