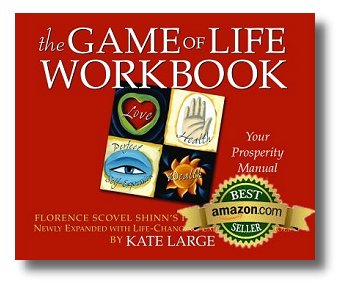 Are you ready to access the
best kept secret of the 20th century?
In her classic book, THE GAME OF LIFE AND HOW TO PLAY IT, Florence Scovel Shinn established herself as the leading prosperity writer of her time whose down-to-earth, practical, and helpful suggestions appealed to millions of readers and seekers from all walks of life. Although her original work was composed in a different era, her lessons, stories, and insight continue to engage readers despite the dated language and examples. At the core of her teachings is a timeless message for those who yearn to connect on a deeper level with these soul-stirring concepts.

Never before has there been a step-by-step map to your prosperous life that's just waiting to be discovered. Florence Scovel Shinn's beloved writings have now been updated with contemporary references that empower the human spirit and allow everyone to easily relate to the essence of her genuine words and thoughts.

This NEW interactive workbook includes the original text from THE GAME OF LIFE plus:

• WORKBOOK SESSIONS that explain the terms and define the concepts as they relate to the world of today bringing Florence's teachings into the 21st century.

• "INSIDE ASSIGNMENT" exercises to empower you to step into a greater expression of you!

• SQUARE OF LIFE charts to help you identify the motivating forces that steer your life and manage them to create miraculous prosperity in your life.

• PERSONAL JOURNAL pages to record your experiences and track your progress.
Order directly from Amazon here.
Order directly from Barnes and Noble here.
Order directly from BAM! (books-a-million) here.