The Secret Door to Success: Your Manifesting Blueprint
based on The Secret Door to Success by Florence Scovel Shinn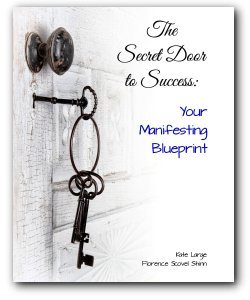 Florence Scovel Shinn's original Secret Door to Success is a compilation of 14 lectures.
Kate has taken those lectures and restructured their order to support manifesting what you wish to create.
There are 6 sections:
Section I - Foundation for Success
Section II - Expecting and Receiving Miracles
Section III - Powerfully Manifest through Your Energy
Section IV - The Shift from Trust to Knowing
Section V - Out-Picturing Beliefs as Prosperity
Section VI - Positioned for Success - Your New Life
Each section includes Action Steps and your Manifesting Blueprint to guide you step-by-step to create your personal, customized manifesting blueprint for prosperity.
The Secret Door to Success: Your Manifesting Blueprint book/workbook


Order directly from Amazon here:
If you would like to take Florence's teachings about success to a new even more personalized level, please click into The Secret Door to Success MASTERMIND here. Contact Kate to be put on the list to be notified of the next mastermind!