Pssst…. Kate is sharing her angelic tools for relaxation, renewal, rejuvenation, and transformation through a 5 day audio tool!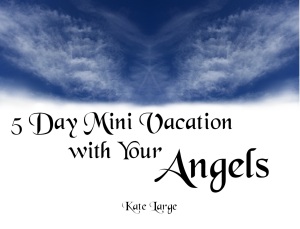 Are you:
Stressed?
Overwhelmed?
Exhausted?
Struggling?
In serious need of some relief?

Then this Mini Vacation is for you!
Your angels will take your worries and bathe you in unconditional love
while they wrap you in the safety of angel wings.
In essence you will rest in the palm of God – worry free…

…bringing heaven to earth!
You order this mini vacation audio program as a digital download or on CD. You may then begin with Day One to be transported to a magical place of unconditional love to relax, heal, renew and rejuvenate your mind body and spirit lifting your energy to the empowered, limitless, being that you are!
Day One: Step into BLISS when you meet and give your Worry Angel all your worries.

Day Two: Shift your reality to the prosperous abundance you desire as your angels hold you in the safe space of gratitude.

Day Three: Relax into the arms of your angels as they embrace you in unconditional love healing the wounds of your heart and those of your inner child.

Day Four: Take the hands of your angels and heal the soils of Mother Earth beneath your feet with pure love to bring peace and balance to your life and home.

Day Five: Open your heart to the blessings of the angels when together you set your intention to live the life of your dreams!

Bonus Gifts:
Prayersongs by Kim Loftis

Day One: From a Space of Openness
Day Two: Gratitude Song
Day Three: Beautiful One
Day Four: For Mother Earth
Day Five: Powerful Intentions

Prayersongs are short 2 - 4 minute songs that raise your vibration to more closely match that of the angelic realm. Singing or humming them anchors your intention as a magical affirmation of joy, love and prosperity! Order your custom Prayersong at www.KimLoftis.com
Repeat the daily audio as desired to maintain the peaceful, balanced higher vibration of love source energy – creating your heaven on earth!

Leave the fast paced physical world behind and connect with the unconditional love of your angels and change your reality!
Step into a state of joy and bliss from deep within!

As within, it is without!
And…
Relax…
Rejuvenate…
Heal deeply within…
Initiate the changes you dream of…

Improve the quality of your life!
Order this exciting 5 Day Mini Vacation with your Angels
And receive it instantly as a digital download