Alzheimer's Alternative Care Class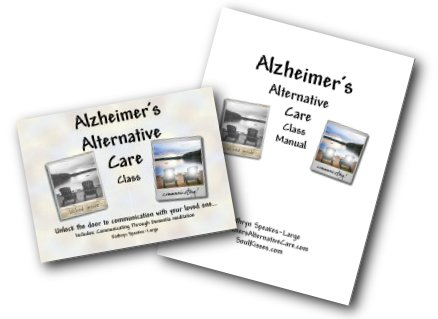 Your loved one is diagnosed with Dementia or Alzheimer's.
Traditional communication will no longer be an option...
Life as you know it will change forever.
Chaos, confusion and fear are creeping in...
Alzheimer's, Dementia, Coma and other illnesses steal our loved ones away from us. The Alzheimer's Alternative Care class is a communication tool of support that is "outside the box" of conventional "main stream" practices. Through these messages you will learn how to communicate with the Higher Self of your loved one to aid your journey as you walk the pathway that is silent of coherent communication.
Who is the Higher Self?
As humans we are three levels of consciousness:

conscious


subconscious


superconscious or Higher Self.
The Higher Self is our superconscious Spirit, God Part or Divinity within. It is who/what we are without our physical body. It is the connection we have with one another - our union with God, The Creator of All That Is.
Each one of us has the ability to tap into the essence of who we are, our Higher Self and connect with the Higher Self of others. Even if our loved one experiences:
| | |
| --- | --- |
| | Alzheimer's |
| | Dementia |
| | Coma |
| | Autism |
| | Separation by distance |
| | Comatose state |
| | Drugs - the loved one's body is medicated due to an illness |
Kate will walk with you hand in hand to identify and release judgment, anger, helplessness and fear to move to a place of possibility in love to bring you and your loved one comfort and peace.
In this 60 minute class you will learn how to:
| | |
| --- | --- |
| | Identify feelings outside of love that you are experiencing |
| | Identify and dissipate your feelings of anger, frustration, helplessness and fear |
| | Transmute your doubt/fear to love |
| | Elevate your vibrational frequency to that of love |
| | Shift unforgiveness to love |
| | Ask for permission |
| | Communicate with your loved one's Higher Self |
You will be able to reconnect with the person you love and:
| | |
| --- | --- |
| | Express your love to your loved one |
| | Experience and embrace their love for you |
| | Converse with your loved one and ask them questions or speak words from your heart to them |
| | Attain a level of peace and comfort that will elude you without this connection |
It does not matter if you are experienced in meditation or not, this class guides you through all the steps to clearly communicate with your loved one who is locked inside their physical body.
You may experience the immediately by ordering the MP3 and PDF download or you may order the hardcopy CD and manual.
Alzheimer's Alternative Care Program

Included with the class is a special bonus:
Communicating through Dementia guided meditation!

MP3 Download & PDF file
Receive Immediately

Class Fee: $87.00

CD & Manual
Receive Priority Mail

Class Fee: $97.00

Note to purchasers of the MP3 download: Upon completing your payment at PayPal, you will be returned to this website to confirm your email to receive the MP3 and PDF download files. If you do NOT have a PayPal account, but use a credit card through PayPal, you MUST click on the return to website link after completing your payment!! If there is a cyber hiccup and you do NOT redirect to the website after making your payment at PayPal to complete your order, please contact Kate: