Communicating Through Dementia and Alzheimer's - Guided Meditation MP3 Download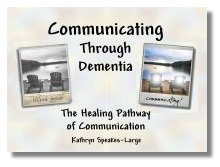 Here in the physical world, when a loved one experiences dementia and cannot communicate with us, it is devastating. We grieve, we are sad - our lives change forever. My family has experienced dementia both on my mom and my dad, Big Jim's, side of the family. Big Jim's mother experienced it thirty years ago - before I practiced connecting with Spirit. We were at a loss as to our ability to connect with her higher self.
Then in 2007, my grandfather on my mom's side slipped into an almost constant state of confusion as his physical body deteriorated. My grandmother was caring for him in their home. We don't live in the same state, so there was nothing I could do to help her physically. It was heartbreaking to hear Grandpa's confusion as he spoke to Grandma while she and I would be chatting on the phone.
I knew that Barbara Mark of Angelspeake had connected with Ronald Reagan's higher self/Spirit while he was experiencing Alzheimer's. So I set the intention to connect with my grandfather's higher self/Spirit in hopes of giving comfort to my grandmother.
It worked.
I've created a guided meditation, the same one I used to connect with my grandfather's higher self, so you may connect with your loved ones who are unable to communicate with you.
The first track, Communicating Through Dementia, is information to aid in setting the intention to connect as well as examples of what to expect during the communication.
The second track, Guided Communication Through Dementia helps us to elevate our vibration to more easily connect with our loved one's higher self. We will ask permission to connect. It would be rare to receive a "no." Once we have connected with our loved one, a few minutes of time is given to chat.
If you or someone you know has a loved one who cannot physically communicate because of dementia, Alzheimer's, coma, etc. this information will open the door to communication.
Need a CD? Contact Kate!

Note: The Communicating Through Dementia guided journey meditation is a part of the Alzheimer's Alternative Care program.