Please accept this invitation to join the


Happy 11:11!
In the Moment Movement!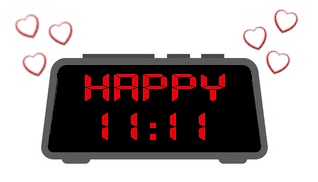 What does it mean?
"Reality is a consciousness program created by digital codes. Human DNA, our genetic memory, is encoded to be triggered by digital codes at specific times and frequencies. Those codes awaken the mind to the change and evolution of consciousness. 11:11 is one of those codes, meaning activation of human DNA." (from CrystalLinks.com)
Recognizing 11:11 wakens the mind & spirit to This Moment.
11:11 is a doorway of opportunity to consciously create the focus of your attention.
When are you most powerful to create the life of your dreams?
When you are consciously living in the moment focusing on what you want in joy!
When does the Law of Attraction work? All the Time!
Let go of worrying about the past and fretting about the future - shift into joy "in the moment" where you are most powerful at making your dreams come true!
Receive your heart's focus when you embrace Happy 11:11!

Where will I see it?
time - 11:11 or 1:11
cash - $1.11, $11.11, $111.11 etc.
11.11 gallons of gas
111 emails in your inbox or trash
phone numbers
license plate
the dates 11/11/11, 5/11/11

Click
here
to see
larger images.




Try this Fun Fact!
Take the last two digits of the year in which you were born
& add the age you will be this year.
The results will add to be 111!

Last two digits of year: 60
Age I will be this year: 51
60 + 51 = 111
Please share this Golden Opportunity
to live "in the moment"
by wishing others Happy 11:11!
Jesus and Archangel Metatron asked Kate to start this movement on Easter Sunday, April 24, 2011. Consciously acknowledging 11:11 or any derivative of it shifts your energy into "this moment" where you are most powerful at creating the life of your dreams.
We formally ask your angels to show you "Happy 11:11" in all possible ways!
When you notice 11:11 the universe "snaps a photo of your thoughts"
make them good ones!
The Happy 11:11! Wristband
Kate wears the "Happy 11:11!" wristband. Would you like one, too? Want one for a friend?
What a conversation starter! When someone asks about your wristband and you share the loving magical energy "Happy 11:11" creates, it will become contagious and spread healing love throughout the planet! Happy 11:11 will be as a light that cuts a path through the darkness of fear pulling people into living "In The Moment" to create more joyful, loving, prosperous lives!
Happy 11:11! "In the Moment" Wristband
1 wristband - $5.00 each
2 or more wristbands - $4.00 each


The Happy 11:11! wristband size is Adult (8")
Click here to become an Affiliate Partner sharing Happy 11:11! Wristbands